Every once in awhile, moms need something just for them. That hidden piece of chocolate, that glass of wine, or that amazing home spa shower spray. I am so excited to tell ya'll about these
HomeSpa Aromatherapy Shower Sprays
! They are truly one of those things that I consider a [not-so] guilty pleasure. I was originally planning on giving these to my sister-in-law because they are right up her alley but after smelling them, I decided to keep them for myself (sorry, Ashley, you missed out! haha).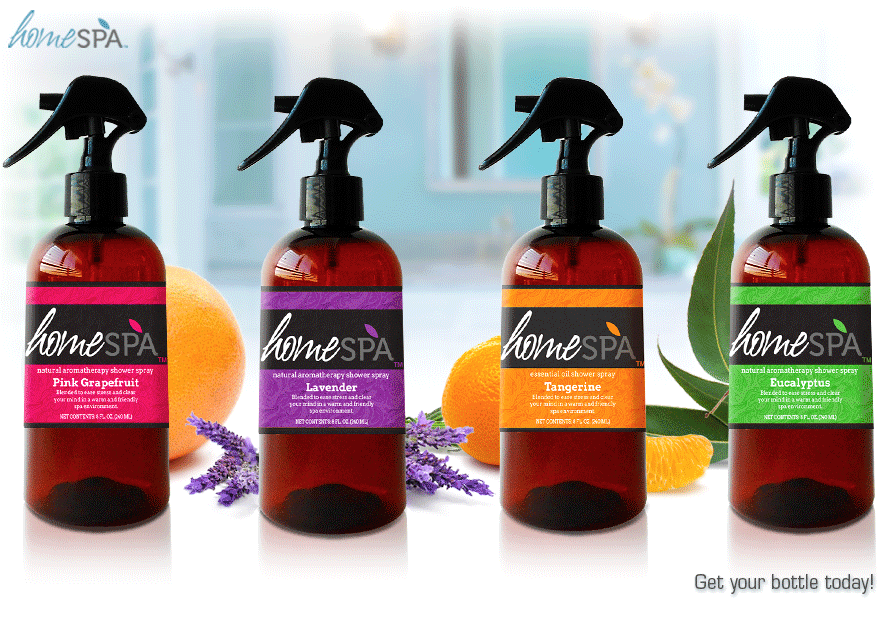 HomeSpa is a 100% natural shower spray developed using the highest quality of ingredients to stimulate the aromatherapy treatments found in Spas around the world. Using a unique blend of natural, therapeutic, essential oils, they created to ease stress and clear one's mind. Comes in a slender, attractive bottle that can be displayed in the shower or easily tucked inside a bathroom cabinet. I love displaying mine on my counter, they are just so pretty!
The shower sprays come in four different scents: Lavender, Eucalyptus, Tangerine, and Pink Grapefruit. I love that they are all paraben-free, safe and non-toxic. All you need to do is start your bath or shower and then spray 2-4 pumps (or however many you want) above or around the water stream and you instantly can smell the fragrance! I have to tell you, these smell AMAZING.
The Tangerine and the Pink Grapefruit are great fragrances that kind of wake me up in the morning. They both have a citrus smell that makes me feel relaxed yet energized. I think the Eucalyptus is going to be so great when one of us has a cold because I have a feeling it would clear our sinuses right up!
I absolutely love the soothing smell of the lavender and it is my favorite! Z insists on taking showers already (she's only 2!) and I spray a little bit of the lavender in her showers too. I can honestly say that the scent of lavender relaxes her and it makes it easier to put her to bed afterward. I like the idea of the sprays so much better than rubbing something lavender scented on her because she has sensitive skin.
You can connect with HomeSpa on
Facebook
!
Buy your own HomeSpa Sprays at www.homespashowerspray.com
Win It!:
Enter to win your very own set of all four HomeSpa Aromatherapy Shower Sprays below!
This giveaway is open to the US.
Disclosure of Material Connection: I received one or more of the products or services mentioned above for free in the hope that I would mention it on my blog. Regardless, I only recommend products or services I use personally and believe will be good for my readers. I am disclosing this in accordance with the Federal Trade Commission's 16 CFR, Part 255: "Guides Concerning the Use of Endorsements and Testimonials in Advertising."