I'm pretty excited to tell you all about this awesome coloring app and book! The
Painting Lulu Coloring Book
is the only coloring book that lets you color in real-life AND online! Painting Lulu is actually a FREE app for your smartphone and tablet. But here's the cool part, you can buy a special 3-in-1 activity book that goes along with the app and enhances the digital coloring experience!
The Painting Lulu 3-in-1 Activity Book includes:
1. Physical Coloring Book: 32-pages made of 100% recycled paper. Over 10 different characters!
2. Crayon Stylus: Fun "crayon-like" experience - enhance any drawing and coloring on touch screens
3. Coloring App: Digital version of all their coloring books plus 1-click sharing with Mom & Dad.


How Does It Work?
You start by coloring on your physical coloring books then scan the QR Code on the top of the page to continue coloring on an electronic device like an iPad or Kindle. In addition, your child can easily scan the full page with the Painting Lulu App which will display a digital version of his coloring page on your mobile device. So basically, thanks to revolutionary patent pending technology, all you have to do is scan colored pages and watch it magically appear in the app!
This is a screenshot of one of Z's beautiful pieces of artwork! :)
This cute little package was a lot different than I was expecting (although I dont know why, since it clearly states what you get). You receive a (random color) crayon stylus and a coloring book, and then you download the free app. We received a cute green stylus crayon which was so perfect because green is one of Z's favorite colors. If you don't get the color you want, you can always order the stylus color you want on the
Painting Lulu website
and they have plenty of colors to choose from!
Even if you don't have the coloring book and stylus (which is adorable), this app is really fun to color and you can just use your finger (although where's the fun in that?!). It will so great for long car rides or during doctor visits when taking along crayons and coloring books is just not the best option. With this app and stylus, you get all of the fun of coloring without the mess!
Z is only two years old but she's pretty savvy when it comes to the Kindle or a smartphone and she can work through this app with ease. The only issues we've had with this app is that sometimes it has a bit of delay (about 3 seconds) and sometimes Z cant bring up the menu that changes it from crayons to markers, paint, or an eraser by herself (picture of the menu below).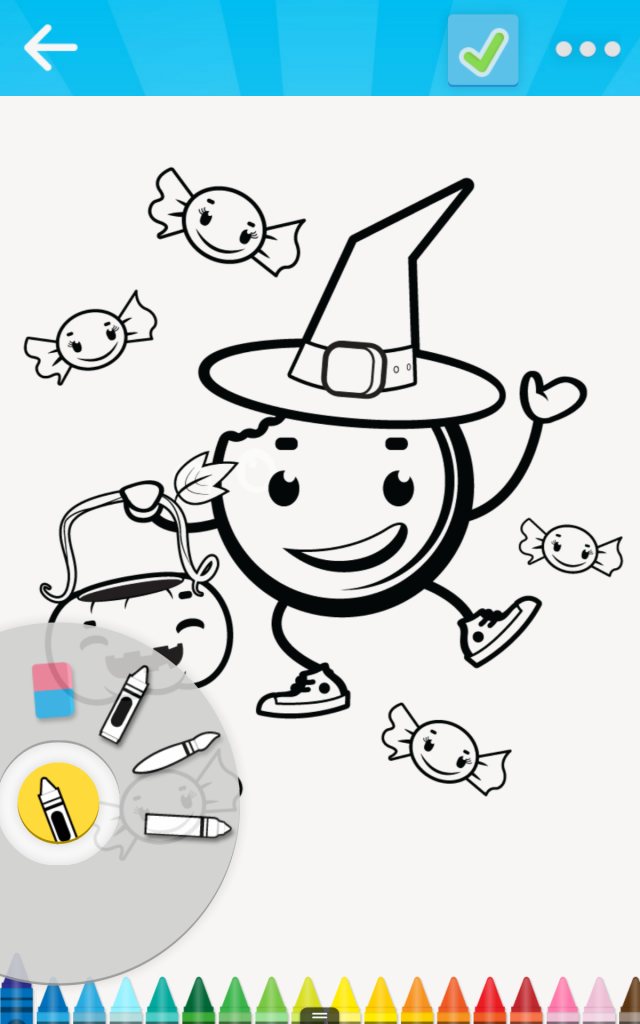 Z isn't quite old enough to understand how the paper to digital download works though. I've tried to show her how to scan her drawing so she can continue it on the Kindle but she wasn't even interested a little bit. I think its a really, really cool feature though I cant wait til she gets older and can understand how it works a little better. But for now, we're really enjoying both the app and coloring book separately.
One of my favorite features of this app is that there are so many different coloring pages-- I was very excited to see they even have holiday themed coloring pages! Z has been loving coloring the Halloween ones and we are very excited to see what Winter and Christmas ones they will have! In the picture below, you can see all of the coloring book options they give you on the app, you pick which one you want and it shows you all of the coloring pages for that book you get to choose from!


This is seriously the best coloring app I have ever seen and I absolutely love all of the options it gives you. Z plays with it every single day an it has quickly become one of her favorites. Z has always loved coloring but this app and stylus has really taken her coloring to a new level! I recommend it for all kids 2+ who love to be creative and it would make such a great birthday or Christmas gift!
I received one or more of the products mentioned above for free using Tomoson.com. Regardless, I only recommend products or services I use personally and believe will be good for my readers.
Disclosure of Material Connection: I received one or more of the products or services mentioned above for free in the hope that I would mention it on my blog. Regardless, I only recommend products or services I use personally and believe will be good for my readers. I am disclosing this in accordance with the Federal Trade Commission's 16 CFR, Part 255: "Guides Concerning the Use of Endorsements and Testimonials in Advertising."